"PUMPKIN PIEs❤❤❤"
The Kpop Directory
==**==

(Source: newtrappedworld, via jaeelison)
GET THE FUCK OFF. 
(Source: noclassbeatdownfool, via ianadee)
ablyn
said: Then why did you reblog it?? o.O
Tenshi Tenshi Tenshi~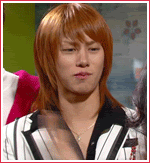 Yeah act more innocent
Then you delete all incriminating text messages and pictures like a ninja before you hand it over

Or act like you don't hear them

 LMFAO ,

LMFAOO
(Source: disc-overy, via jaeelison)
LADY HEE HEE

a total Lady Gaga fangirlboy

OIC!!! BUT HEECHUL ONE IS SHINY LIKE A SATELLITE DISH!! XDD
(Source: ddonghaes, via kimhimchann)
Day 1: Ten random facts about yourself.

I give people poker face when I'm mad
I click on a fanfic link immediately when I see that it's rated,smut,NC17.
I make porn fanart but don't publish any of it. Mostly EunHae,KyuMin,HanChul,YeWon and YeWook.
I think that Sex between guys are much hotter and sex between Girl and Guy is a common thing.
My classmates dare me once to watch porn with them. I agreed on one condition: I got to pick what we'll watch (They're all guys. Happened only once)
I punch a girl when I was 9 'cuz I was just simply pissed off
I have an AB blood type and my name is AB-Lyn so people who know that I'm AB blood type think that AB in my name means my blood type.
I got into Kpop when I was 9 'cuz my mom told me to stay at home and just watch TV and that was the day I watched the MV of U and Kiss The Baby Sky
My kpop ultimate bias of all time is Kim Jae joong
I'm mostly loud and doesn't care if people think I'm crazy when I shout in the street as long as I have my friends with me
So I was browsing in your page and enjoying your songlist, then , I saw this!!!
AB I'm not happy with number 5

(Source: flippers, via msbeijingfriedrice)
CREATED FIRST POST

YOU FOLLOWED SOMEBODY

SOMEBODY FOLLOWED YOU

YOU READ A VERY FUNNY POST

YOU READ A VERY CORNY POST

FIRST ANONYMOUS HATER

2ND, 3RD, 4TH, 5TH, NEVER ENDING HATERS

YOU LOST A FOLLOWER

TUMBLR MAINTENANCE

WHEN IT'S TIME TO GO TO SCHOOL

WHEN SOMEBODY POSTS FOOD

WHEN SOMEBODY SHOWS OFF

WHEN YOU SAW A NUDE PHOTO

WHEN THERE'S A MASSIVE UNFOLLOW

WHEN THERE'S A MASSIVE FOLLOW

AND IF TUMBLR BE GONE

LLMFAO JAY! AWESOME.
(via ianadee)